Our Challenge Policy
This is how you can play:
1. Just upload a newly made project to your online blog or gallery. Then leave a direct link to your project in the link widget at the bottom of the challenge post. One entry per participant. To make your entry count more, follow the guideline below:
a) You can enter any project as long as it meets the challenge requirements and it will count for one entry.
b) If your project includes a Guylou's Inimitability digistamp, it will count for two entries.
If you don't have a GI image, you can visit
Guylou's Inimitability Store
to purchase one or get one of the freebies offered.
2. You must also meet all the requirements listed in the challenge post in order to qualify to win.
3. All Challenge entries posted on your blogs must have a link to the challenge post here and credit must be given to Guylou's Inimitability whenever using a GI image on your project.
4. Do not link to a blog post which was created prior to the time frame of the current challenge.
5. We invite you to become a follower. We offer a free digistamp to all new followers.
See details here.
6. Most of all... have fun!

Free digistamp

5/28/10
Oh! How I wished I would have the time to sit for a while and read a good book. I have been so busy for the past few weeks and I did not have the time to update my blog. I am sure Marysse would be wiser and would not take so much on her plate. :) Marysse was created after my dear friend Gina, who is also a member of my design team, asked me to draw a woman with a poney tail. Gina was the inspiration for that image. Although we have never met in person; she has been my friend for several years. We met in a critic group on scrapbook.com and we have been friends ever since. Gina is so talented; she is also an awesome writer. She is very caring and loves to give her opinion if you ask. I am so happy to have ner in my life. This digistamp is awesome for birthday, friendship, encouragement and thinking of you cards.
Click here to purchase Marysse
. Please take a moment to see what my wonderful Design Team has created with this digistamp:
Guylou's creations
Gina's creations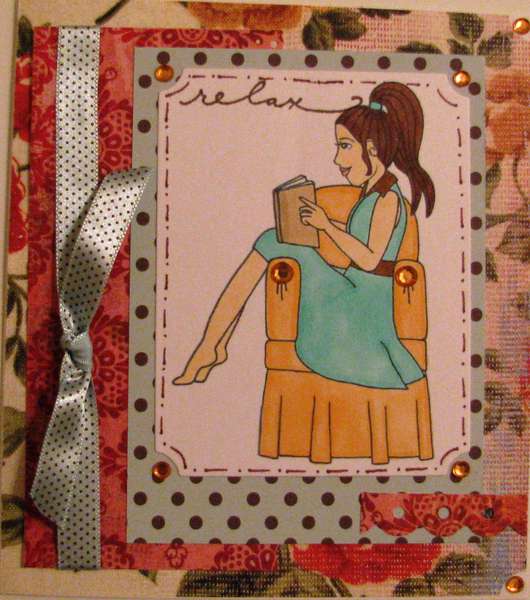 Danni's creations
Dale's creations
5/2/10
Categories

Blog Archive