Our Challenge Policy
This is how you can play:
1. Just upload a newly made project to your online blog or gallery. Then leave a direct link to your project in the link widget at the bottom of the challenge post. One entry per participant. To make your entry count more, follow the guideline below:
a) You can enter any project as long as it meets the challenge requirements and it will count for one entry.
b) If your project includes a Guylou's Inimitability digistamp, it will count for two entries.
If you don't have a GI image, you can visit
Guylou's Inimitability Store
to purchase one or get one of the freebies offered.
2. You must also meet all the requirements listed in the challenge post in order to qualify to win.
3. All Challenge entries posted on your blogs must have a link to the challenge post here and credit must be given to Guylou's Inimitability whenever using a GI image on your project.
4. Do not link to a blog post which was created prior to the time frame of the current challenge.
5. We invite you to become a follower. We offer a free digistamp to all new followers.
See details here.
6. Most of all... have fun!

Free digistamp

4/30/10
Lisa was inspired by a happy television character who I used to loved when I was a teenager. I used to watch "Happy Days", one of the rare English television programs I was allowed to watch growing up, and one of my favorite characters was Joanie Cunningham. I loved her spunkiness and corkiness. I remembered seeing her in a cheerleader outfit and really wished my school had a cheerleading program, but they did not. :(
"Shortcake", as she was affectionately called by Fonzie, was not as visible as her brothers Chuck and Richie, but I enjoyed watching her grow and mature in her role throughout the many seasons of Happy Days. Now that I think about it, maybe deep down I was not really envious of her being a cheerleader, but more because she dated the hottest character on the show: Chachi. LOL! This digistamp is awesome for birthday, friendship, encouragement and get well cards.
Click here to purchase Lisa
. Please take a moment to see what my wonderful Design Team has created with this digistamp:
Guylou's creations
The inside sentiment says "It's your birthday". The front and inside sentiments were created by my dear friend Tracy and will be available in my store on May 2nd.
Danni's creation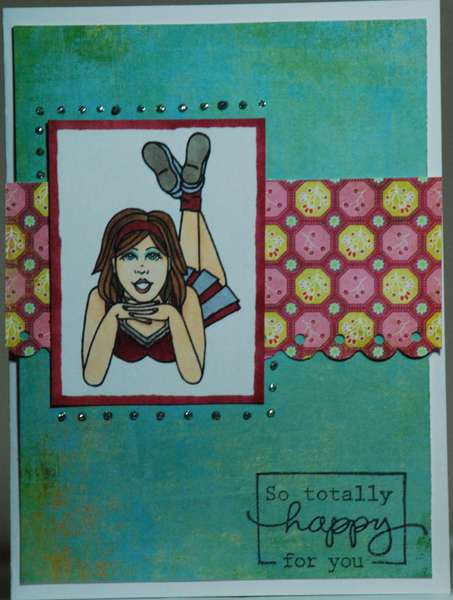 Brenda's creation
Gina's creation
Dale's creation
Tracy's creation
Categories

Blog Archive